London:
Ministries:
Other:
UK and IRELAND SINGLES RETREAT 2017 ABOVE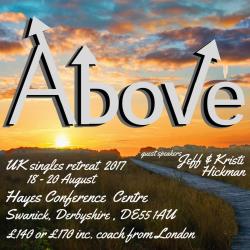 Friday, 18 to Sunday, 20 August 2017
The Hayes Conference Centre, Hayes Lane, Swanwick, Alfreton, Derbyshire, DE55 1AU

Our theme for the weekend will be "ABOVE"

THE RETREAT IS NOW FULL.

Colossians 3:1-4 Since, then, you have been raised with Christ, set your hearts on things above, where Christ is, seated at the right hand of God. Set your minds on things above, not on earthly things. For you died, and your life is now hidden with Christ in God. When Christ, who is your life, appears, then you also will appear with him in glory. (NIV 1984)

Venue: The Hayes has been a conference centre since 1911 and is run by the Christian Conference Trust. The oldest part of the centre was built in the 1860s as a family home with lovely gardens which invite you for a wander. During WW2 it was a POW camp and an escape tunnel can still be seen! Their grounds also include a chapel, basket ball court and outdoor chess board.

Accommodation and meals: All rooms are en-suite. There is a mixture of single occupancy and shared occupancy rooms. The single occupancy rooms will be allocated on a 1st come 1st served basis and/or dependant on needs. Please indicate your preference when registering and who you would like to share with if a single occupancy room is not available. Meals are included from dinner on Friday to breakfast on Sunday.

CHECK-IN and CHECK-OUT:
Friday, 18th August - check in from 15:00 (3 pm)
Registration from 18:00 (6 pm)
Retreat will start with dinner at 19:00 (7pm).
Sunday, 20th August - departure latest 12 noon

How to get there: The venue is 5 miles from the M1 and a very short taxi ride from Alfreton train station.
By car:
London - about 2.5 hours by car.
Birmingham - about 1.5 hours by car.

By coach:
We have arranged a coach from and back to London. Details are below.
Friday, 18th August from Melton St, near Euston Station: arrive 14:30 (2:30 pm) for a 15:00 hours (3 pm) departure.
Sunday, 20th August from The Hayes: depart 12 noon.

By air:
Birmingham airport - 40 minutes.
East Midlands Airport - 1 hour
Luton Airport - 2 hours
Please click on the download link below for more information.

Our guest speakers will be Jeff & Kristi Hickman from Marietta, Georgia, USA. The Hickmans serve as ministers in the North River Church of Christ. Jeff grew up in a single parent home in Dallas, Texas. After high school, he attended Princeton University where he graduated with a degree in English in 1993. He immediately went on to work for Oracle Corporation in Maryland where he became a Sales Account Manager in their Federal Division. He received a promotion, moved to California and soon thereafter was named the Sales Manager of the Year in 1996. While throwing away his cup of coffee at a local coffee shop, he was invited to a Bible discussion for Singles. Not long after that, he became a Christian in the Los Angeles Church of Christ. His first spiritual birthday was also his first day in the full-time ministry where he focused on the singles. Kristi grew up in a small town in Mississippi. She loved dancing and baton twirling from an early age and won several national competitions as well as a scholarship to university as the Featured Twirler! In between this she became Miss Teen USA and had a modelling career. Kristi left university with a BA in Journalism and moved to Los Angeles where she continued her modelling career filming national and international commercials for Reebok, Sunkist, Ford, and others. Additionally, she appeared in several music videos, most notably with ZZ Top. While in Los Angeles, Kristi was invited to the Los Angeles Church of Christís Arts ministry. She began to study the Scriptures earnestly and was baptised into Christ in March of 1995. Soon after, she left her career in the entertainment industry to work full-time in the ministry. Jeff and Kristi met while they were serving together in the singles ministry in the Manhattan Beach region of the Los Angeles church and they were married in December 1999. They have two beautiful school-age daughters, Hannah and Ella Grace. For over a decade, Kristi has counselled, trained and inspired women of all ages to love God with all of their heart, mind, soul and strength. Not only is she a powerful speaker, she is also a high-energy Zumba instructor; and the multiple classes she teaches have become a fun, popular work-out spot for many women in her community. Jeff graduated from the Athens Institute of Ministry with Honours in 2009 and is excited to be able to teach Godís word which is his passion in life.

Prices:
£140 Retreat ONLY
£170 Retreat AND Coach (from London)
£105 Retreat ONLY (Leicester church members only)
From 8 August it is possible to pay in TWO instalments, 50% now and 50% by the end of September 2017. Please click on the payment & registration link for more details.

DAY VISITORS - SATURDAY ONLY - on sale from 11 August at 5pm.
The programme starts at 9;45 am and finishes at 15:30 (3:30 pm) with time for Q&As and fellowship after. Dinner is at 18:45 hrs (6:45 pm).
£35 Saturday - DAY ONLY (including refreshments & lunch)
£45 Saturday - DAY ONLY (including refreshments, lunch & dinner - not party)

Registration is still open. The two instalments option and day visitor options are for new bookings and cannot be applied retrospectively.

Concessions: Together with the Hayes we are able to offer a limited number of places of at a reduced price for situations such as but not limited to someone who is long-term unemployed. This offer is now closed; applications have been received and the bursary allocated.

We do not wish for anyone to be unable to attend on account of cost and would suggest that if you are in a situation like this you speak to your local leadership team.

Please click here to register and pay

Cancellations and refunds: All payments are non-refundable. If you need to cancel please let us know as soon as possible. Any refund requests will be dealt with on a case-by-case basis and are at the discretion of the ICCM Trustees.

Booking Note: Booking more than one person? The registration questions only come up once. Please either book one person at a time OR make sure you record information for each person in each question and any other information in "additional information".

Once the booking is completed, you will receive a confirmation email. .



Downloads