London:
Ministries:
Other:
STUDENT MINISTRY SUMMER INTERNSHIP 2018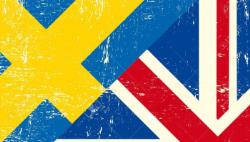 Monday 18th June to Wednesday 11th July ~ London & Stockholm

The UK and Nordic churches are very excited to announce the 2018 student ministry summer internship. The flag logo represents the relationship between our churches in the UK and the Nordics (using the Swedish flag!)

This will be a wonderful opportunity for students to live a few weeks fully immersed in the mission field. We will be spending the first half of the internship in London, England and then we will be flying over to Stockholm, Sweden to spend the remainder of our time in training and fellowship.

The day-to-day schedule will be full! The group will be together most of the day, every day. Some internship expenses will be covered however you will need to take care of other expenses yourself. Further information will be posted on this page in the next few days.

If you are looking for ministry training, adventure, and a faith building summer please apply and join us!!!
__________________________________________________

The invitation is open to disciples from our sisterhood of churches and who will be in university as of September/October 2018.

We regret that on this occasion we are unable to accept applications from anyone who will require a visa.

Application Deadline: 1st March 2018. Applications are now closed.
Decision Notification: 15th March 2018..