London:
Ministries:
Other:
Preteen camp report 2015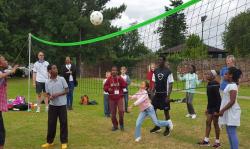 The report on the camp is here: http://www.thelondonchurch.org/ChurchWide/news.aspx?Region=London

Uwa Bazuaye has written about the inspiring time had by our young people on this summer's camp..

The theme for the preteen camp was "Mind games". The mind is a special gift from God which can potentially store 100 trillion thoughts which could come from good and bad. The goal was to help the preteens know what it means to love God with actions— not just words."