London:
Ministries:
Other:
PRETEEN CAMP 2017 LET IT SHINE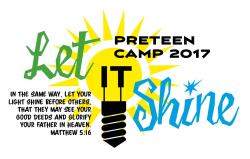 Newland Park, Chalfont St Giles, Buckinghamshire, HP8 4AD
Tuesday, 25th July (from 14:00 hrs) to Friday 28th July 2017 (14:00 hrs)

FULL CAPACITY HAS BEEN REACHED.

In today's worth-seeking world, this young generation is concerned about "fitting in" with friends, at school, or in the society they live in. Looking pretty, having popular friends, wearing fashionable clothes. This is what our culture teaches and forces us to feel. For a Christian youth, the focus of life should not be on the "fitting in" but rather on the "standing out". The goal of the camp is to help our preteens stand out in the face of worldly pressure in reflecting the very nature and character of Jesus in everything they do.

At the camp, the preteens will learn that Jesus is the Light of the world and will discover how God has uniquely equipped them to "shine" the light of Jesus to the world. They will also experience Christ centred activities through Bible lessons, fun activities, games, daily devotionals and worship services.

Preteen Camp is for children aged 10 years to 12 years. Note: 12 year olds who turn 13 in August are invited to Teen Camp but are still open to join the Preteen Camp if you as their parent feel they are not mature enough to go to the teen camp.

Venue: Newland Park is a former teacher training college set in 80 acres of land. This will be our 4th year here.

Accommodation: Accommodation is in apartments composing of a few twin rooms with en-suites (wc & shower or bath). Girls are with girls, boys with boys and housed in separate areas. Bed linen is provided.

CHECK-IN and CHECK-OUT:
Tuesday, 25th July - Check in from 14:00 (2 pm)
Friday, 28th July - Departure latest 14:00 (2 pm)

How to get there: Travel is under your own arrangements. Newland Park is 10 minute drive form Jct 17 of the M25.
Nearest underground station is Chalfont & Latimer (3 miles). Gerrards Cross, Amersham & Rickmansworth (4 miles)
Nearest rail station is Gerrards Cross (4 miles).

How is the programme run? There are bible lessons, fun activities, games and spiritual lessons, camp fire nights and a themed party night on the last evening. The children are in small mixed groups headed up by adult volunteers. The programme, a packing list and other information will be emailed to you about 10 days before the camp starts.

Who is organising the camp? Uwa and Clara Bazuaye, coordinators of the preteen ministry in the West region of the London Church of Christ.

If you would like more information please contact your local preteen or church leader.

________________________________________________________________

PRICES (per preteen):
The camp is now sold out.

Cancellations and refunds: All payments are non-refundable. If you need to cancel please let us know as soon as possible. Any refund requests will be dealt with on a case-by-case basis and are at the discretion of the ICCM Trustees.