London:
Ministries:
Other:
MOTHER and DAUGHTER RETREAT 2017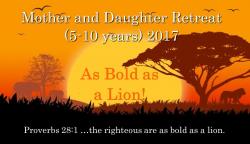 As Bold as a Lion!
Saturday 7th October (9:30 am) – Sunday 8th October 2017 (15:30/3:30 pm)
Proverbs 28:1 …the righteous are as bold as a lion.(NIV 1984)

THIS RETREAT IS NOW FULL

Who's up for an exhilarating weekend for mothers and daughters based around faith, fun and the animal kingdom?

This year the Mother and Daughter Retreat (5-10 years) will be based at two exciting venues.

On Saturday, we will be meeting at 9:30am at Paradise Wildlife Park, Broxbourne, Hertfordshire - a fabulous family zoo with beasts ranging from big cats to reptiles, birds of prey and farm animals. In addition there are a wealth of fun activities such as an adventure playground, train-ride and soft play area. We will have our popular craft activity at the zoo and our very own animal show! To whet your appetite, check out the website:
Paradise Wildlife Park
Lunch is not included. There are two dining areas, food kiosks or please bring your own packed lunch.

After a full day at the zoo we will make our way to the nearby De Vere Theobalds Estate, a hotel set in 55 acres of beautiful parkland. We will have a relaxing dinner and then sit back for a well-deserved movie-night.

We are booked in to the hotel until 3:30 pm on Sunday which means we will be able to make the most of our fun time together. Breakfast and lunch is included. As part of our Sunday worship service we will split in to devotional groups where we can bond together as we consider how, as mums and daughters, we can be as bold as a lion, full of confidence and trusting God with our daily lives. There are grounds to enjoy and the opportunity to participate in optional team games, dancing and singing.

This retreat is open to our friends and family, that is, mothers with daughters who are 5-10 years old!

_________________________________________

VENUES:
PARADISE WILDLIFE PARK is a family-run zoo and home to a large range of animals including exotic creatures and endangered species. There are 5 types of Big Cats and the largest collection of small monkeys in the UK. The Park is a great place to learn about and see many of the wonderful creatures God has made.

DIRECTIONS TO PARADISE WILDLIFE PARK -
By Car: Paradise Wildlife Park is just off the A10 near Junction 25 of the M25. Parking is free.
Broxbourne is the nearest train station and there is a chargeable shuttle service available from there to the Park.
Directions to Paradise Wildlife Park

THEOBALDS PARK was first recorded as a park of note in the 1300s. Since then various houses have been built (and ruined) within the park, James 1st of England (James VI of Scotland) once lived here. The present beautiful Georgian building is what is left of a mansion built in the 1700s. Since the early 1900s it has been a hotel, riding school and education centre. Today it is still an elegant mansion but with the addition of modern conference facilities behind. There is free wifi throughout and a mini-mini gym.

DIRECTIONS TO THEOBALDS PARK - .
By Car: Theobalds is also near Junction 25 of the M25. Parking is free and there are 200 spaces
Exit the M25 at Junction 25, head north towards Cambridge on the A10. At the next roundabout take the first exit (left), in to Lieutenant Ellis Way and head towards Cuffley and Goffs Oak. Take the first left, signposted Theobalds Park and continue over the bridge and straight on. The entrance is in front of you. Parking is free and there are 200 spaces. .
By Rail:
Theobalds Park is situated 3 miles from Cheshunt station with British Rail connections from London's Liverpool Street station. Journey time from Liverpool Street to Cheshunt is about 30 minutes.
If you require a taxi please contact the hotel reception team on 0844 980 2319.
By Air:
Theobalds Park is approximately 45 minutes from Stansted Airport, 1 hour from Luton and 45 minutes from Heathrow.
http://www.deverevenues.co.uk/en/venues/theobalds-park/theobalds-park-directions/e.

ACCOMMODATION:
We have a mix of twin-bedded and double-bedded rooms. All rooms are en-suite.

CHECK-IN and CHECK-OUT:
Saturday - Paradise Wildlife Park 9:30 am for a 9:45 am start.
Sunday - Departure Theobalds Park latest 15:30 (3:30 pm)

PRICES: Please note there are two sets of prices. The "subsidised" prices include the subsidies agreed by Belfast, Birmingham, Dublin, Edinburgh, Glasgow, Leicester, London and Manchester for their members). The "normal" prices are for all other churches and for friends and family).
LATE AVAILABILITY – there are a few rooms available with one double bed in the room. This means space for a Mother and ONE daughter only and sharing a bed.
£138.00 - Mother and ONE daughter SUBSIDISED
£182.00 - Mother and ONE daughter NORMAL

We do not wish for anyone to be unable to attend on account of cost and would suggest that if you are in a situation like this you speak to your local leadership team.

Once the booking is completed, you will receive a confirmation email.

CANCELLATIONS & REFUNDS: Please note that payments are generally non-refundable. If you need to cancel please let us know as soon as possible. Any refund requests will be processed at the discretion of the ICC Missions Trustees and may incur an administration fee.