London:
Ministries:
Other:
Holy Mohlie (2009)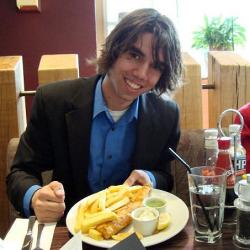 At the beginning of the year, the London church appointed Ian Mohlie as student minister, serving the undergraduates at the central London universities. Ian has been serving as leader of the singles ministry at our sister congregation in Richmond, Virginia. Tim Stephens probed our new recruit on his life, influences and future plans.

What was it like growing up in Richmond, Virginia? Growing up was fun. We had a pool and a big forest behind our house. We did a lot of exploring. There wasn't much else for me to do in Richmond, until I got myself a car! After that, I spent lots of time at the mall, the cinema, or working as a cook in a restaurant called "Hops", which was fun.

What did you want to be when you grew up? When I was younger I wanted to be either a truck driver or a crab catcher.

How old were you when you became a Christian? I was 18, a first-year at uni.

What was your picture of God before you studied the Bible? Hmmm, a deep question... God was always good, someone to trust. I didnít know much about what He taught, but I feared him.

Who or what influenced you spiritually when you were growing up? My mom bought me a bible when I was 16. I started reading it, I liked it and believed it. She influenced me the most.

Did you enjoy being a student? I LOVED being a student! When I got a job and started working, I missed being in the campus ministry and taking classes. I thought about going back to school for a teaching degree. I still might do that.

What did you like about university? I loved the freedom, the flexible schedule, diversity, relationships, the classes, the ministry, living with brothers, going to each other's classes, and campus retreats.

If you could go back and give yourself one piece of advice, what would it be? "Donít study engineering, study foreign languages!" Because I really enjoy that now and I wish I had pursued it more when I was a student.

What do you like about London so far? London, for me, is Ďa dream come trueí! I love not having to have a car. I love the diversity of the people, the good food, good music scene and the fantastic theatre scene. Itís all so pretty at night too. I find it so easy to travel to other places, so easy to find what you need and, of course, I love the church here, which is very welcoming, encouraging and visionful.

What do you think has prepared you the most for this role? Helping lead the VCU campus ministry and being a singles leader. But mostly itís the many little lessons that God teaches throughout the years: the discipling; the experiences; the vision; the good examples to follow.

What is your goal for the London Students Ministry? To become big enough to impact all the campuses in the London area. To become a training ground for students all over the UK. To hold conferences, hire other campus ministers, and be a fuel for the rest of the church in areas like the teen ministry and singles ministry. Also, to impact the rest of Europe, sending student mission teams to Paris, Amsterdam, Berlin, etc. And for God to receive all the glory!

What plans have you got for this year? Weíre all going to Bergen, Norway for our campus conference in late June and we'll all be teen camp counsellors. We'll hold bible talks at three universities (Heythrop, Kings and UCL) and read through the book "Disciples on Campus" and perhaps "The Master Plan of Evangelism".

Did you have an exam technique? Exam technique?... Ha-ha! Pray and find friends who are smarter than you to study with!