London:
Ministries:
Other:
Body Mind and Spirit Womens Afternoon Talk and Tea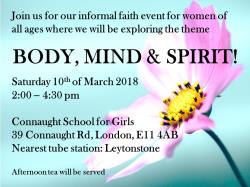 Join us for our informal faith event on Saturday, 10th March for women of all ages as we celebrate International Women's Day.
SOLD OUT - We regret that no more tickets are available for this event. There will be a follow up event on Wednesday, 4th April at 7:30pm, Connaught School.

Dr Maggie Miller will be our very special guest speaker at our Women's event this year. Maggie was born and brought up in the USA where she became a christian in Philadelphia, Pennsylvannia in 1991 after completing a Phd in Psychology. She moved to Manchester, England in 1993 to marry her husband Bruce. They now have twin teenage daughters and a son and live in London. We are looking forward to hearing Maggie speak on Body, Mind & Spirit as she weaves these together with stories from her life and faith.

Date: Saturday 10th March 2018
Times: 2 - 4.30pm
Place: Connaught School for Girls, 39 Connaught Road, London E11 4AB
Prices: £5 per adult and £3 for teens, students or OAPs.
Deadline: 4th March. From 4th March and if capacity permits, tickets will be an additional £3 per person.

Other Useful Information ~
How to get there:
By Tube: Leytonstone (Central Line)
By Bus: 339, W15
By Car: off High Rd Leytonstone/A106

Accessibility: Our event takes place on the ground floor and there is disabled access at this venue.

Child Care: There is very limited child care provided at this event.

Please note that this event is for women only and is organised by a Christian faith-based group. However we welcome women of all faiths and backgrounds and love learning and sharing and growing together!

Refunds: Your payment is generally non-refundable. If you need to cancel, please e mail and let us know as soon as possible. Any refund requests will be processed at the discretion of the East region of the London Church of Christ and may incur an administration fee.

Please click here to register and pay.