London:
Ministries:
Other:
PRETEEN CAMP 2018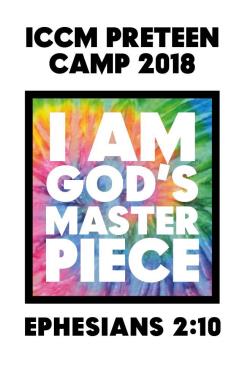 Friday 3th August to Monday 6th August 2018
Staffordshire-Kingswood, Barn Lane, Near Albrighton, Wolverhampton, WV7 3AW

Our theme this year is I AM GOD'S MASTERPIECE. In today's rapidly changing world, identity crises are a big social and cultural issue that has come to dominate our headlines, TV channels and social media feeds. These influences lead so many of our young generation to have a low body image and wishing they had been made differently.

The goal of this camp is to inspire the preteens with the concept that God not only made them unique as persons, but He has created them with a very special plan for their lives—a plan that can be experienced only if they follow Him.

At the camp the preteens will discover God's will for their lives! They will learn that growing in biblical knowledge, in Christ-like character, and in godly conduct are key to fulfilling God's wonderful plan. They will also experience Christ centred activities through Bible lessons, fun activities, games, daily devotionals and worship services.

Kingswood Staffordshire is a purpose built residential activity centre tucked away in the Staffordshire countryside. It is self-contained, secure and compact with a great atmosphere; perfect for this age group.
________________

OTHER INFORMATION
Who will be organising the camp? The organisers will be Uwa and Clara Bazuaye. The Bazuayes have led Preteen Camp for a number of years, long enough to see their own sons grow from preteens to teens/students! Uwa is an elder in the London International Church of Christ they are part of the West Region of the church.

Who is the camp for? Preteen Camp is for children aged 10 years to 12 years.
• Note: 12 year olds who turn 13 in August are invited to Teen Camp but are still open to join the Preteen Camp if you as their parent feel they are not mature enough to go to the teen camp.

How is the programme run? There will be bible lessons, fun activities, games and spiritual lessons, camp fire nights and a themed party night on the last evening. The children will be in small mixed groups headed up by adult volunteers. We will also be using the venue's on-site indoor & outdoor instructed activities within our time at camp. These include abseiling, aero ball, archery, bushcraft, low ropes, night-line, problem solving, quad bikes and a zip wire.

What are the sleeping arrangements? Accommodation is dormitory style; boys and girls are on separate floors and have gender-separated wash facilities.

Travel:
Coaches from London
• The pick-up point will be near Euston Station. Due to HS2 building works the meeting points keep changing therefore a specific point will be advised nearer the date. .
- TO Camp on Friday 3rd August: Meet at 10:45am for a departure at 11:00am on the dot.
- Please bring snacks for travelling.
- The journey will take approximately 3 hours depending on traffic and break stops.
- FROM Camp on Monday 6th August: The coaches will depart from Kingswood-Staffordshire at 13:00 (1pm) on the dot.

Travelling from elsewhere
• Please check about travel arrangements with your local teen leader.
• Please use the Retreat ONLY registration option. Any additional travel costs will be arranged locally if applicable.

Check in and check out for anyone not on the London coaches:
• Arrival check in from 14;30pm (2pm).
• Depart between 12:30 and 13:00 (1pm).

________________________________________________________________

PRICES (per preteen):
There are 2 options: register and pay in full now, or register now with a deposit and pay by monthly amounts.

Option 1
REGISTER AND PAY THE FULL PRICE ON REGISTRATION by15th APRIL 2018, midnight.

ICCM churches (including 25% subsidy)
• £146 Camp ONLY
• £166 Camp AND Coach

Other churches, friends
• £196 Camp ONLY
• £222 Camp AND Coach

IMPORTANT - From 16 April until capacity is reached - The price per preteen will increase by £30 for those Preteens on the membership at 31st December 2017 who register after 15th April 2018. Preteens who join the membership after 31st December 2017 can register at the initial price at any time (the local Teen leader should email judie.vasey@iccmissions.org for registration instructions in this case
________

Option 2
REGISTER AND PAY A DEPOSIT ON REGISTRATION by 15th APRIL 2018, midnight.
• Balance to be paid in ONE further instalment monthly instalment after 15th April 2018 and prior to the camp start, no later than 31st July 2018.
• This option is no longer available after 15th April 2018.

ICCM churches (including 25% subsidy)
• £73 deposit Camp ONLY on registration, then one further payment of £73 prior to the camp start date.
• £83 deposit Camp AND Coach on registration, then one further payment of £83 prior to the camp start date.

Other churches, friends
• £98 deposit Camp ONLY on registration, then one further payment of £73 prior to the camp start date.
• £111 deposit Camp AND Coach on registration, then one further payment of £83 prior to the camp start date.

** The link for the balance payment will show on this web page after 15th April 2018. **
________

Support with finances? We do not wish for anyone to be unable to attend on account of cost and would suggest that if you are in a situation like this you speak to your local leadership team.

Refunds: Please note that payments are generally non-refundable.
• If you need to cancel please let us know as soon as possible.
• Any refund requests will be processed at the discretion of the ICC Missions Trustees and may incur an administration fee.

Booking Note: Booking more than one person?
• The registration questions only come up once. Please either book one person at a time OR make sure you record information for each person in each question or use "additional information".•

Please click here to register and pay!